A Do-it-Yourself Guide for Flames of War (15mm) Buildings
by Grant Echols
I love the hobby behind creating stuff to play on my Flames of War table. I also love keeping my cost down. Good terrain goes a long way towards creating "the experience" for the tabletop game. My most rewarding venture has been creating buildings.
After stewing over design and building ideas, I finally took the plunge and built my first batch of houses. They were two story buildings that turned out to be a bit larger than I'd intended – looking more like mansions that single family homes. However, as my boys and I looked at the results, it was amazing just how much better the game felt to play.
After the first batch of buildings, I branched out to do several other styles. I've kept the designs simple so I can produce them quickly and accurately. I now have several building plans that I can use to pump out a batch of buildings.
This article demonstrates the process I use for creating a batch of buildings.
Materials used:
- 1/8" MDF (medium density fiberboard) – walls and roof
- 1/4" MDF – building floor
- Plasticard – trim and adornments
- Cross-stitch squares – dentil molding and window panes
- Glue (wood glue, hot glue, and super glue)
- Paint
Tools used:
- Table saw
- Miter saw (mine has a laser guide for really accurate cuts)
- Mortise machine (optional, but really nice if you have it)
- Measuring tools (tape measure, carpenter's square)
- Cutting tools (razor knife, scissors, cutting guide)
- Hot glue gun
The thinner material is used for everything except the floor of the building. I use the thicker material for the floor of the building to give me a solid base for gluing up the walls.
Step 1: The scale drawing
I've made my own scale drawings. These allow me to place my miniatures in the drawing to give me a grasp of the scale involved to make sure things look right.
Step 2: Cutting the strips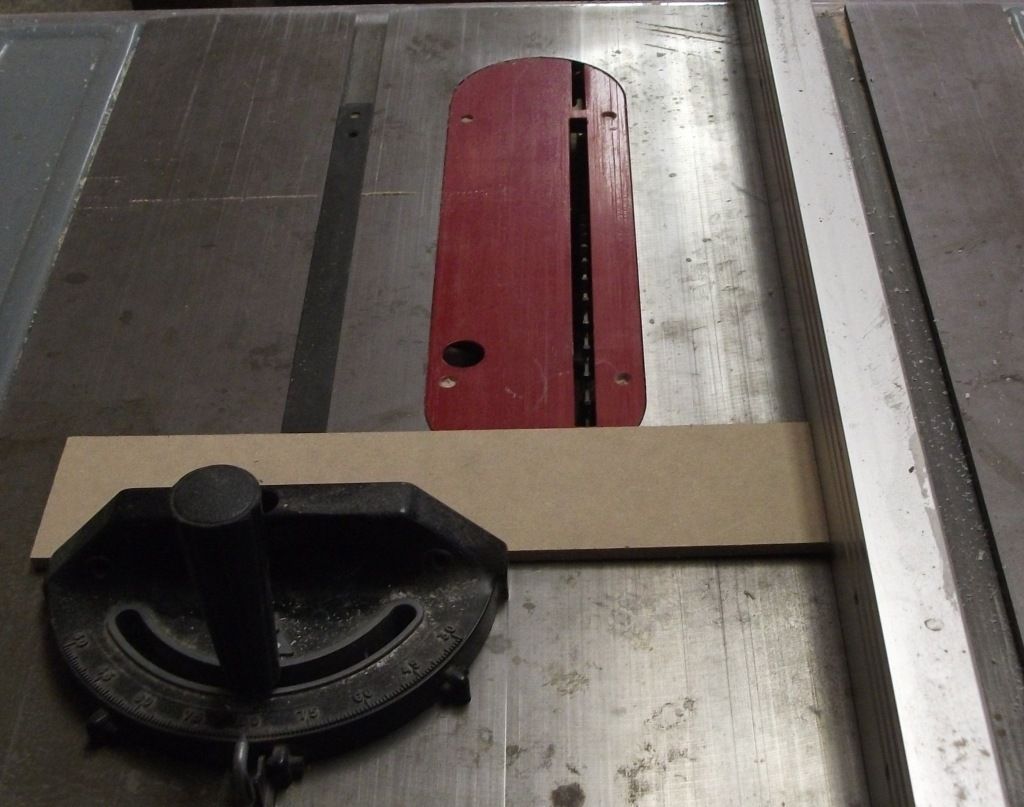 Since I'm making a batch of buildings, I like to cut a strip of the material down to the width needed for the front and back walls, the side walls (mine have the gables on the side walls), the roof, and lastly the floor. This usually reduces the amount of waste, and I try to reuse the leftover material for future projects, which tend to use similar measurements.
Step 3: Angle cuts
I love the laser guide for cutting really accurate angles for my gables. Using the right power tool for the job can save you a ton of time. Save the bits cut off during this process for joining the roof together later.
Step 4: Initial cutouts
Once I have everything cut out, it's important to note whether or not I have all the pieces – here's another good use of the scale drawing.
Step 5: Window cutouts (optional)
This has to be the coolest power tool in my shop – a mortise machine. It basically cuts square holes using a combination of a 4-sided chisel and internal drill bit. The bit I use is ¼", which requires a couple of cuts per window and door, but makes the results really awesome.
If you don't have a mortise machine, you can just paint your windows and doors as black holes with grids or other decoration to give them life. If you want more realistic windows, you can cut out squares from cross stitch panels to add as grids, and use plasticard for doors. These both work well, but I really prefer the 3-dimensional effect the mortise gives me.
Step 6: Bevel roof tops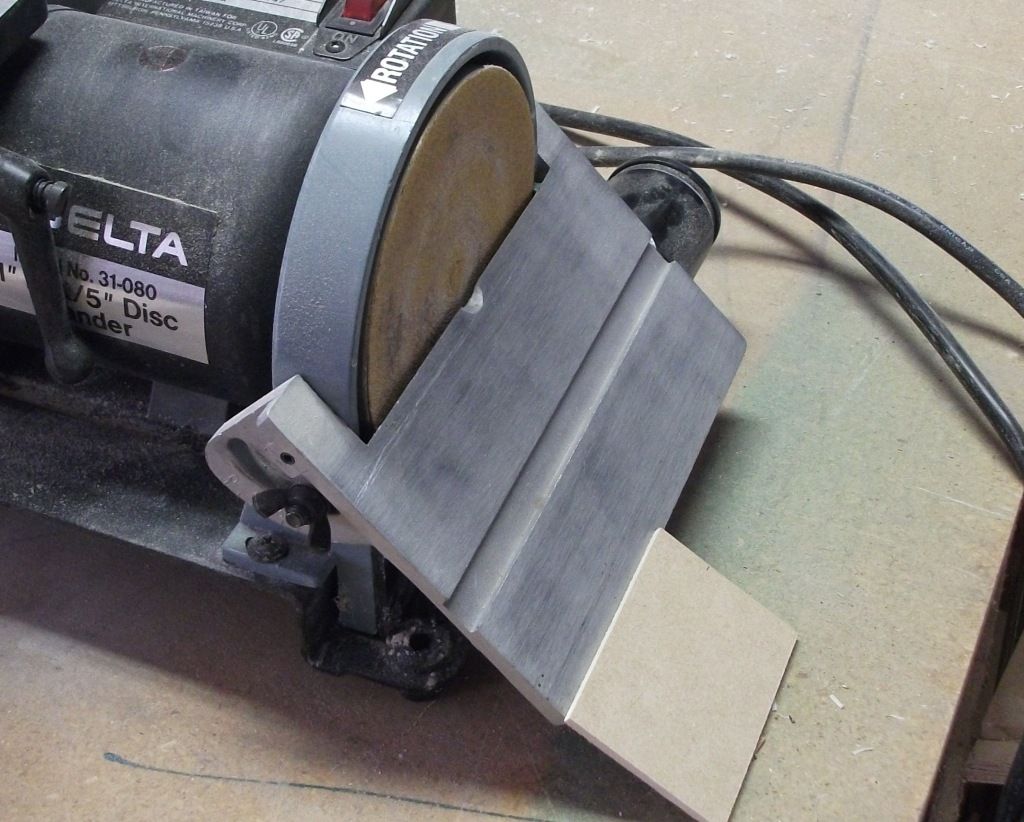 To keep things simple, I tend to have my roof panels join at 90-degree angles (this would be a 12/12 pitch for the roofers out there). I like to have the joint at the top of my roof center joined rather than having one side overlap the other. To do this, I use the disk sander to bevel the top of each panel at 45-degrees.
Step 7: Roof assembly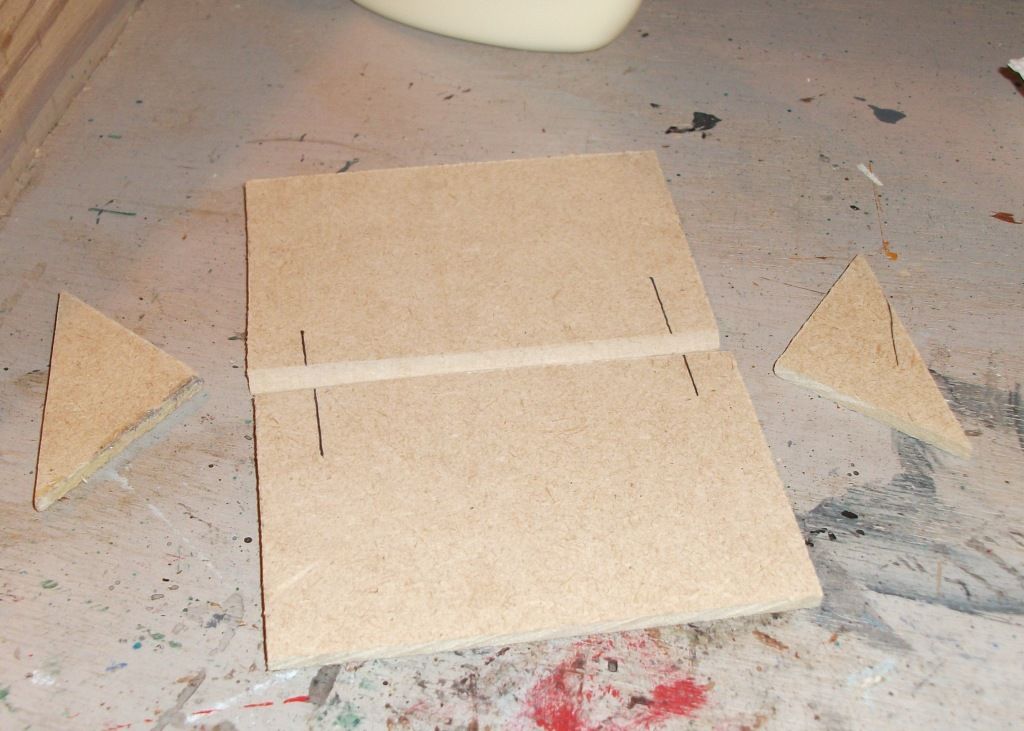 Using the bits saved from Step 3 I glue the roof together using non-expanding wood glue in the joint and hot glue on the interior to hold it while the wood glue dries and reinforce it later on.
Step 8: Wall assembly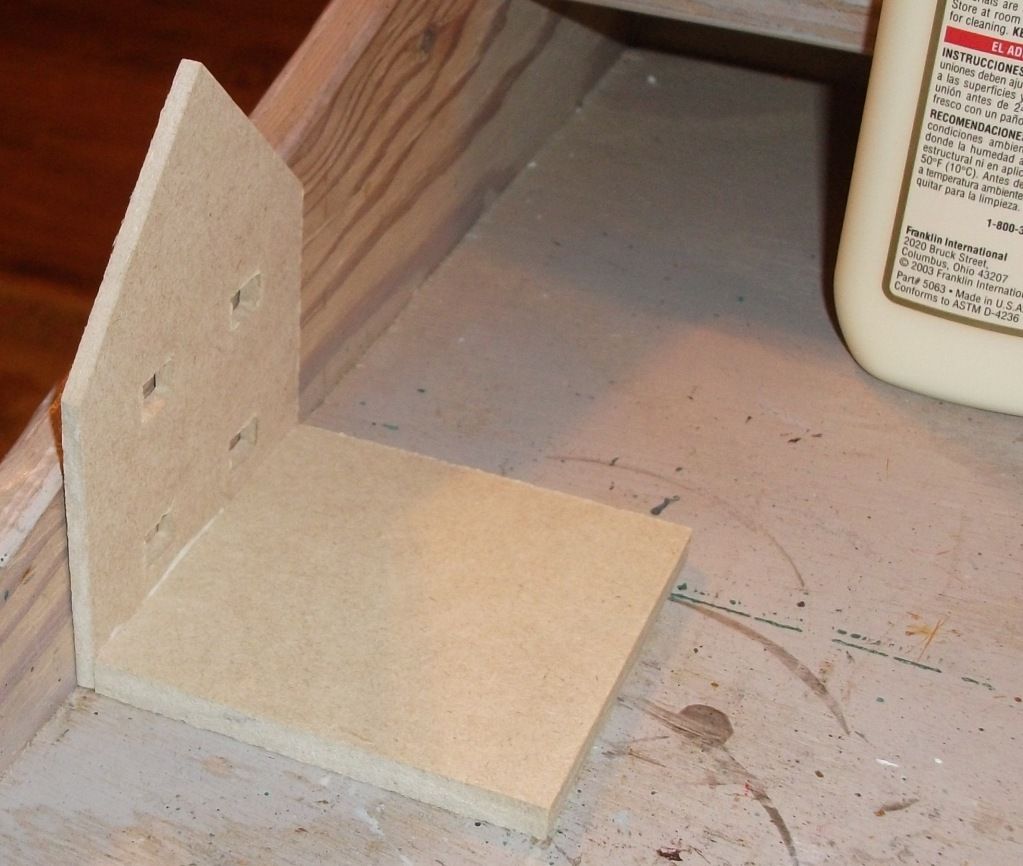 Just like building a real house, I raise one wall at a time. Using the same technique with wood glue reinforced by hot glue lets me raise these walls a whole lot quicker than any framing contractor ever dreamed.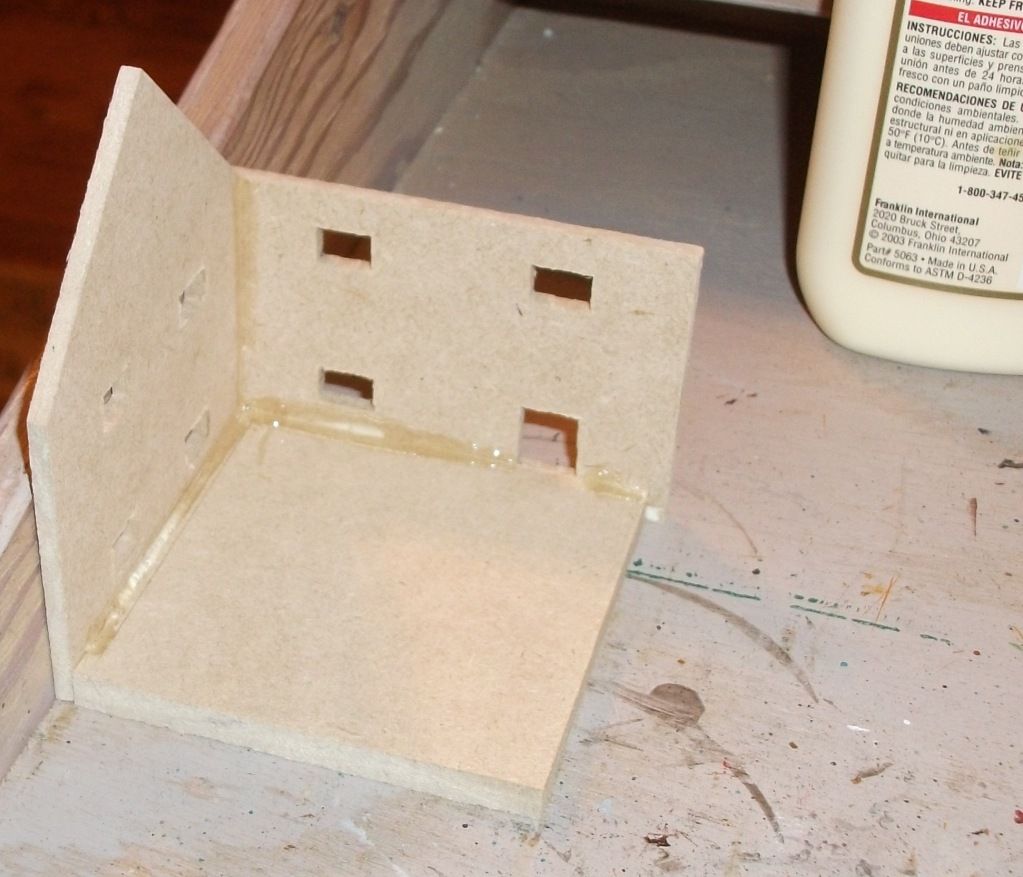 To raise each wall to join together, just work your way around all four walls.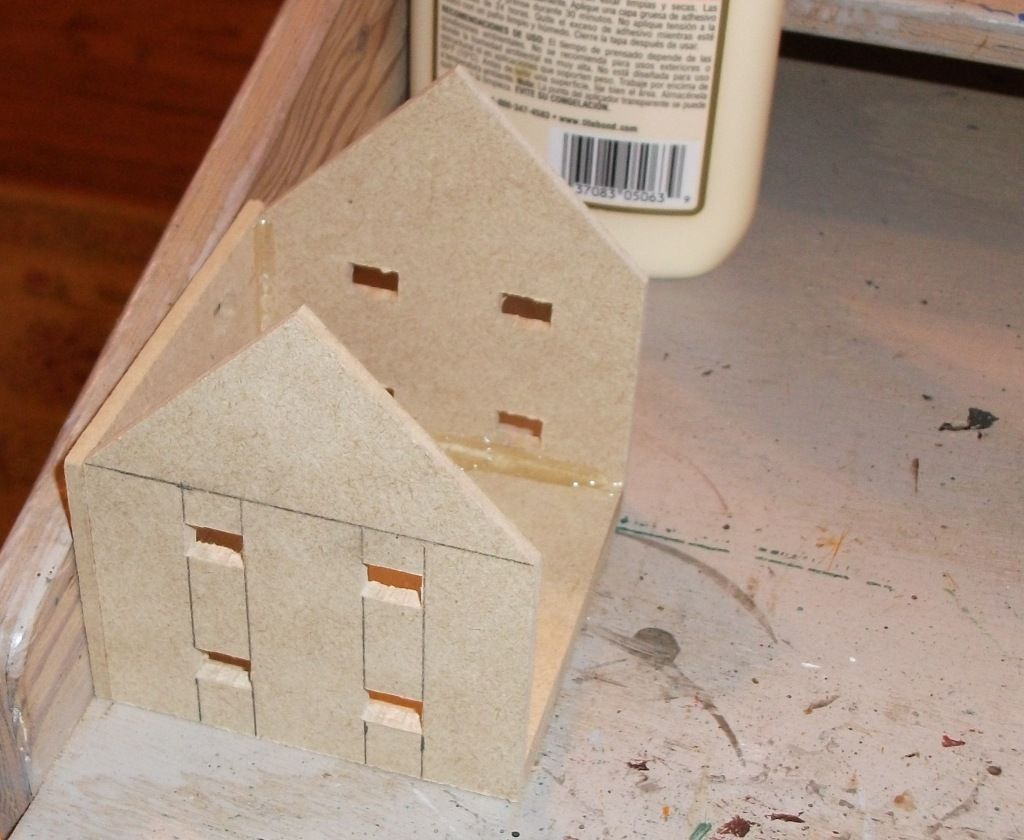 At this point, you've got the structural components of the house built. The hot glue is well set, and allows me to keep working with the pieces without waiting for the wood glue to dry.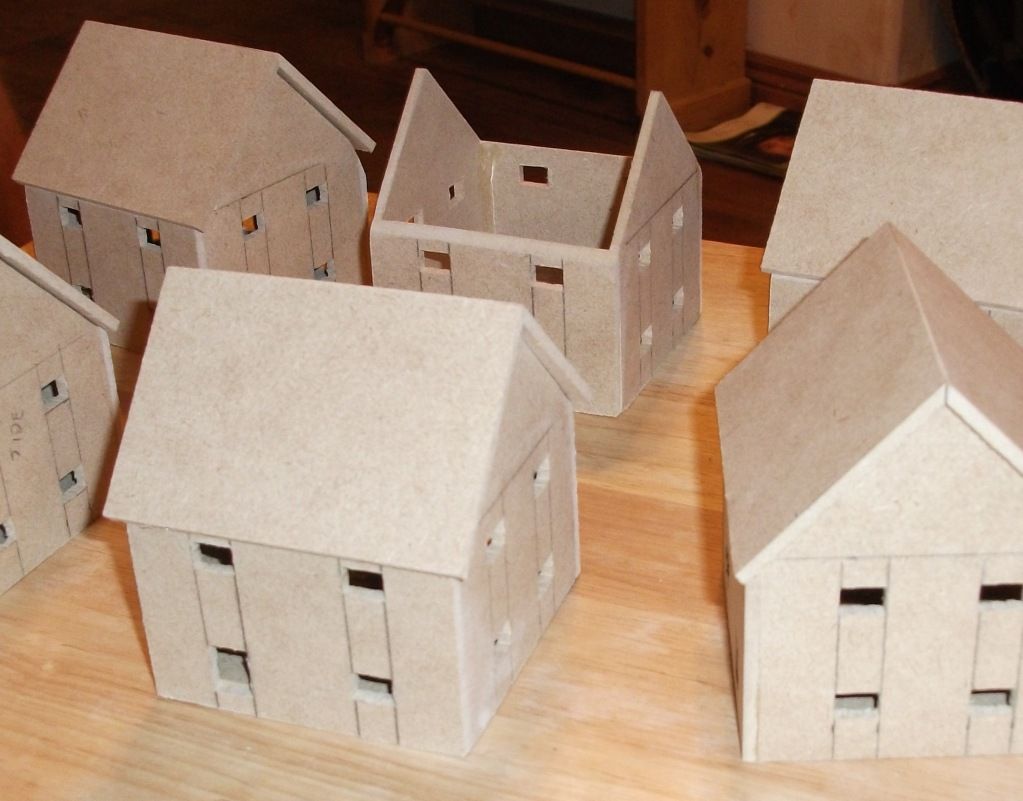 I like to have my roof extend slightly beyond the walls, so the top of the non-gabled walls (my front and back wall) need to be beveled with the sander to get a good fit.
Step 9: House trim
If you have not cut out your windows (not everyone has a mortise machine), this is a good time to use a couple of rows of cross-stitch squares to create the illusion of window grids.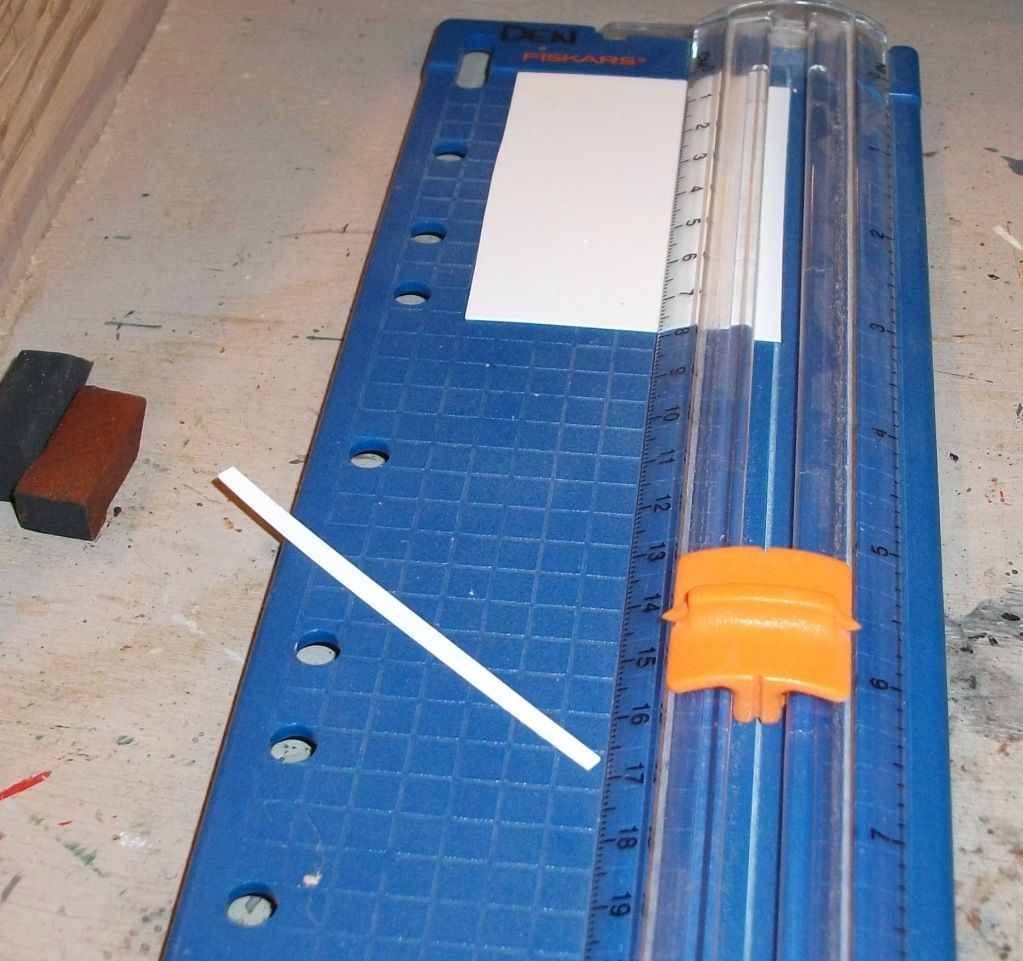 Houses are rarely flat on the outside, so I like to add a bit of trim. This also allows me to differentiate the houses from each other. Plasticard is really versatile, and is available in a variety of textures.
Small window blocks help make the windows 'pop' visually.
Don't forget the stair for the door or the players are going to keep asking, "Why is the bottom of your door floating?"
I love the affect I can get with a strip of cross-stitch squares. This helps visually separate the two floors of the building.
Using a bit of textured Plasticard I can throw shutters on my buildings to further enhance the windows.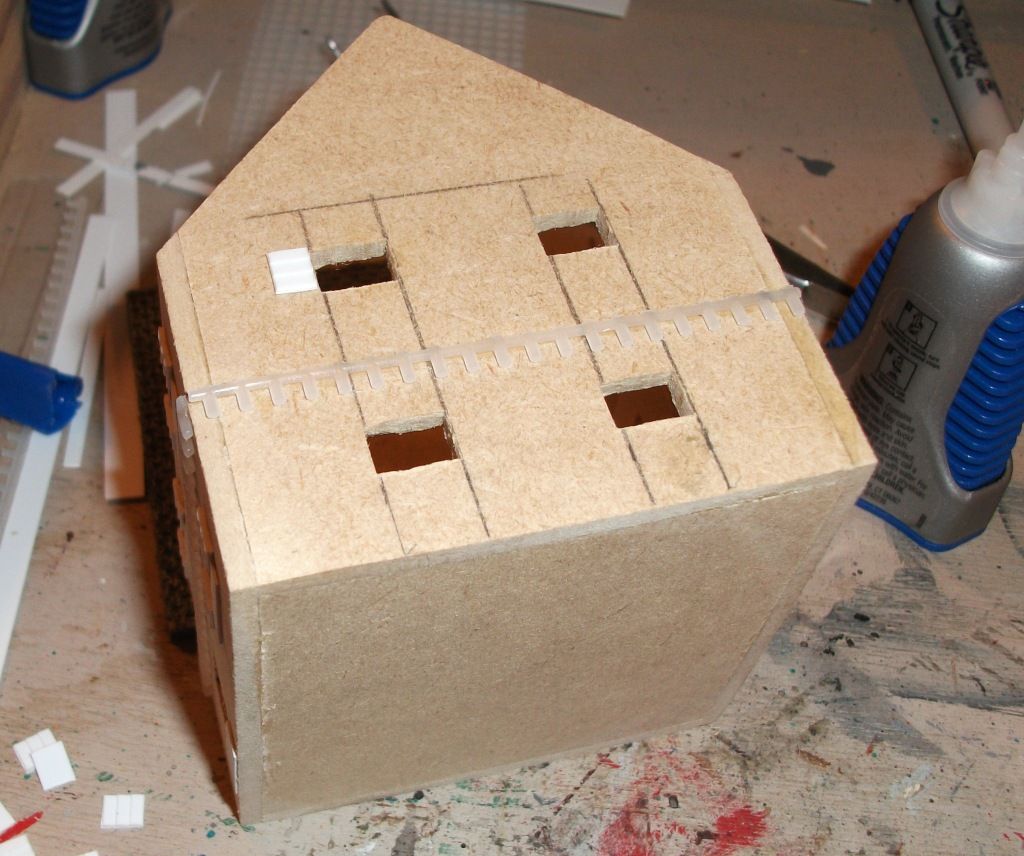 Step 10: Paint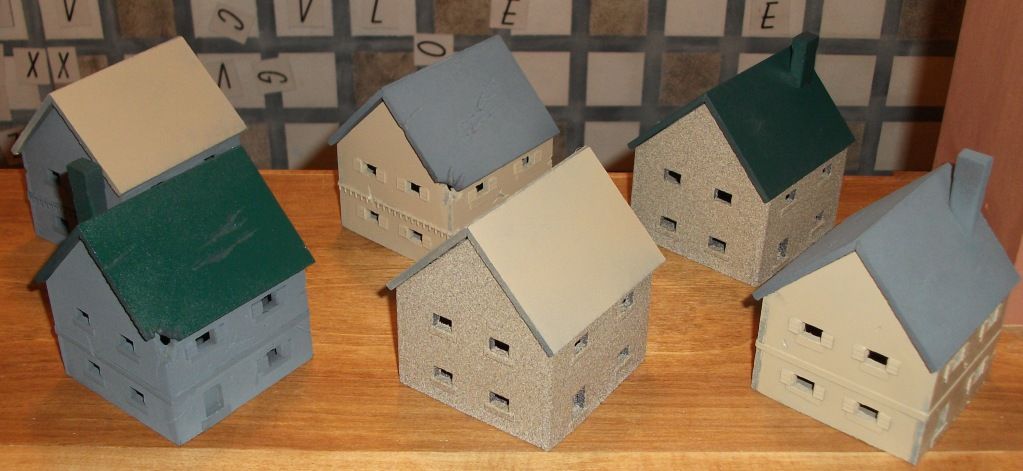 I like to use a variety of colors for my houses. I also REALLY like the stucco texture I get from a spray can of textured paint (available in lots of colors and textures).
At this point I tend to spend most of my time doing little things to differentiate each house. I use a rotary tool to create some weathering or damage affects to my buildings, I add chimneys out of wood bits left over from cutting out the house. I also try to paint the trim with colors to help compliment the rest of the building.
If you think you have some skills and want to give it a try – please do. We all benefit from having better terrain to play on.
Email:
gechols2@hotmail.com